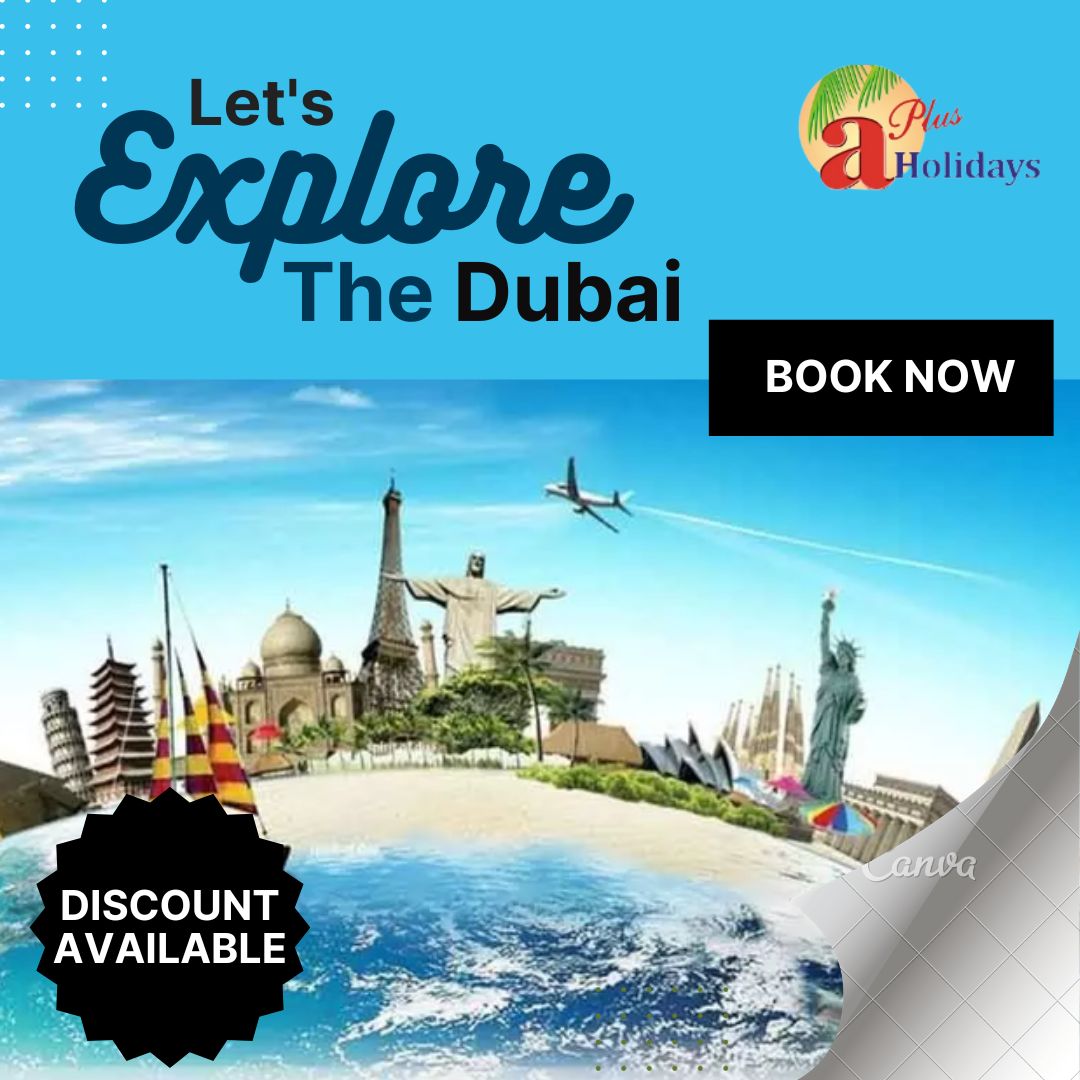 Embark on the Journey of a Lifetime with Aplusholidays' Dubai Holiday Tour Package
Dubai, a city that seems to defy the boundaries of imagination, is a destination that should be on every traveler's bucket list. With its striking skyline, luxurious resorts, and a rich blend of culture and modernity, Dubai offers an unparalleled experience. If you're looking to explore the wonders of this iconic city, Aplusholidays has crafted the perfect Dubai Holiday Tour Package to make your journey extraordinary.
Dubai: A City of Contrasts
Dubai is a city where dreams take shape against a backdrop of awe-inspiring contrasts. It's a place where the futuristic Burj Khalifa, the world's tallest skyscraper, pierces the heavens, while just a short drive away, you can immerse yourself in the tranquil beauty of the Arabian Desert. The historic Al Fahidi neighborhood, with its narrow lanes and wind-tower architecture, stands in stark contrast to the glitzy shopping malls and bustling metropolis.
The Irresistible Allure of Dubai
Dubai's appeal lies in its ability to cater to a wide range of interests. For those seeking luxury and opulence, it boasts world-class hotels, designer boutiques, and Michelin-starred dining. Adventure enthusiasts can partake in thrilling activities like desert safaris, dune bashing, and skydiving over the Palm Jumeirah. If you're a culture buff, Dubai's museums, art galleries, and historic sites offer a glimpse into its rich heritage.
Aplusholidays' Exclusive Dubai Holiday Tour Package
At Aplusholidays, we understand that no two travelers are the same, and that's why we've designed our Dubai Holiday Tour Package to be flexible and customizable. Whether you're a honeymooning couple, a family on vacation, or a group of friends seeking adventure, our package can be tailored to suit your preferences.
What's Included in the Package?
Our Dubai Holiday Tour Package includes:
Luxurious accommodations in renowned hotels or resorts.

Guided tours to iconic landmarks such as the Burj Khalifa and the Dubai Mall.

Exciting desert safari experiences with options for camel rides and sandboarding.

Cultural immersions like visits to the Al Fahidi Historic District and Dubai Museum.

Fine dining experiences at top restaurants.

Dedicated travel assistance throughout your journey.
The Aplusholidays Difference
What sets Aplusholidays apart is our commitment to delivering exceptional customer experiences. Our team of experts ensures that every aspect of your trip is carefully curated, from the moment you inquire about our package to the day you return home. We prioritize personalization, local expertise, and above all, your satisfaction.
Booking Your Dream Dubai Vacation
To embark on your dream Dubai vacation with Aplusholidays, simply contact us via our website or call our dedicated travel advisors. Let us know your preferences, and we'll create an itinerary that suits your desires, ensuring an unforgettable experience in Dubai.
In conclusion, Dubai is a city that captivates with its contrasts, and Aplusholidays' Dubai Holiday Tour Package is your gateway to discovering this captivating destination. Embrace the magic of Dubai and let us make your journey a once-in-a-lifetime adventure.