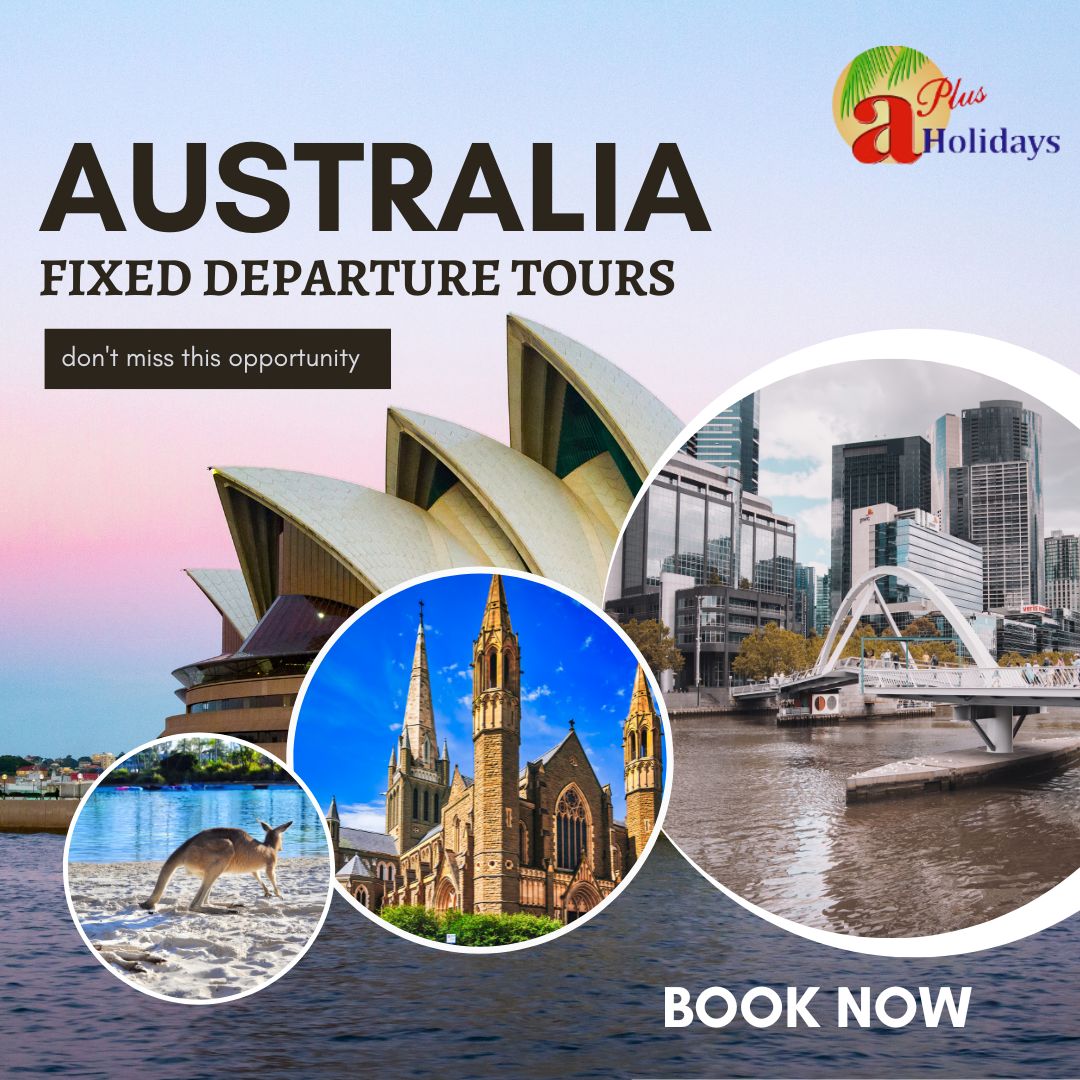 Discover Australia with Aplusholidays Fixed Departure Tours
Are you yearning to explore the vast and diverse landscapes of Australia? Look no further than Aplusholidays, your trusted travel companion. Australia's breathtaking beauty, unique wildlife, and vibrant cities have always been a dream destination for travelers worldwide. However, planning a trip to this vast continent can sometimes feel daunting. This is where Aplusholidays steps in, offering you the convenience and hassle-free experience of Australia Fixed Departure Tours.
Why Australia?
Australia is a continent that needs no introduction. It's a land of extraordinary contrasts, where you can encounter the majesty of the Outback one day and relax on pristine beaches the next. The allure of Australia lies in its diverse attractions and experiences, from the iconic Sydney Opera House and the bustling streets of Melbourne to the otherworldly landscapes of the Great Barrier Reef. The country's unique wildlife, including kangaroos, koalas, and the elusive Tasmanian devil, make it an ecological wonderland.
The Aplus holidays Advantage
Aplusholidays is more than just a travel agency; we are your guides to a journey of a lifetime. Our dedicated team of travel consultants possesses in-depth knowledge of Australia's hidden gems, and we are committed to crafting unforgettable experiences for our clients. When you choose Aplusholidays, you gain a partner who understands your travel dreams and can turn them into a reality.
Fixed Departure Tours
One of the most appealing aspects of our services is our Fixed Departure Tours to Australia. These tours are designed to offer you convenience, affordability, and a well-structured itinerary. With fixed departure dates, you can plan your trip well in advance, ensuring that you don't miss out on the experiences you've always wanted. It's a cost-effective way to explore Australia without the stress of organizing every detail yourself.
At Aplusholidays, we offer a variety of Fixed Departure Packages for Australia, catering to different preferences and budgets. Whether you're an adventure seeker, a wildlife enthusiast, or a culture lover, we have a package that suits your interests. These tours provide a well-balanced mix of iconic destinations and off-the-beaten-path experiences, ensuring that you get a comprehensive taste of Australia.
Tailored Experiences
While our Fixed Departure Tours offer a structured itinerary, we understand that every traveler is unique. That's why we offer the flexibility to tailor your trip to your specific interests. Whether you want to delve deeper into indigenous culture, embark on thrilling adventures, or focus on wildlife encounters, we can customize your itinerary to create a truly personalized experience.
Booking Process
Booking your Australia Fixed Departure Tour with Aplusholidays is a straightforward process. Simply get in touch with our experienced travel consultants, and they will guide you through the available packages, departure dates, and payment options. Once you've made your reservation, you can rest assured that your Australian adventure is in capable hands.
Tags :
#Australia Fixed Departure Tours
,
#Discover Australia with Aplusholidays
,
#travel with aplus holiadys
,
# Best Domestic Air Tickets in Pitampura
,
# Best Domestic tour agent in Pitampura